The main application for drilling with a Cased CFA is to build Secant Walls, as
opposed to diaphragm walls. The main advantages are:
Eliminates the need to use bentonite mud which is accompanied by the costs and inconvenience of large mud plants, handling, and dirt resulting in the work.
Improved accuracy of verticality, guaranteeing a maximum deviation 1.5%.
Quick and clean concreting. In underwater concreting of diaphragm walls, the concrete trucks are parked for a long time in difficult areas due to the time needed for this operation.
Eliminates need for service crane on the jobsite.
Best finish surfaces of the cuttings, because they are made with the casing which works as a mold.
Can be performed in smaller jobsites, and there is no spaced needed for bentonite mud mixers, pumps and tanks.
Soil disposal not contaminated by mud is much easier to discard.
Better sealing between the joints, as the piles are secant.
Significantly more productive than secant walls made with Kelly bar drill rigs.
Cost effective process when compared to either Grabs for diaphragm walls or Cased Kelly bar drilling for secant walls.
| | | |
| --- | --- | --- |
| Standard Chassis: | CAT 352 Next Gen |   |
| Installed Power: | 443 hp | 332 kW |
| Maximum Diameter: | 36 in | 920 mm |
| Drilling Depth (Auger Only): | 66 ft | 20,200 mm |
| Casing Rotary Head Maximum Torque: | 155,080 ft.lbs | 21,500 kg.m |
| Auger Rotary Head Maximum Torque: | 101,400 ft.lbs | 14,000 kg.m |
| Operation Weight: | 230,000 lb | 104,500 kg |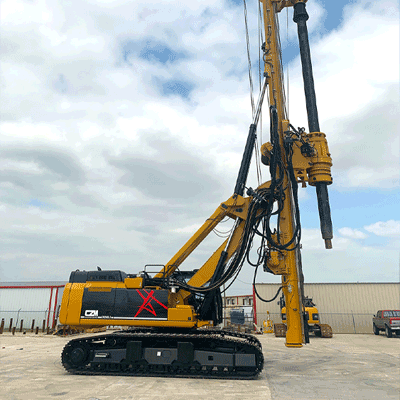 | | | |
| --- | --- | --- |
| Standard Chassis: | CAT 352 Next Gen |   |
| Installed Power: | 443 hp | 332 kW |
| Maximum Diameter: | 36 in | 920 mm |
| Maximum Depth: | 60 ft | 18,200 mm |
| Operation Weight | 200,000 lb | 90,900 kg |
| | | |
| --- | --- | --- |
| Standard Chassis: | CAT 340 Next Gen | |
| Installed Power: | 346 hp | 258 kW |
| Maximum Diameter: | 36 in | 920 mm |
| Maximum Depth: | 66 ft | 20,200 mm |
| Casing Rotary Head Maximum Torque: | 155,080 ft.lbs | 21,500 kg.m |
| Auger Rotary Head Maximum Torque: | 101,400 ft.lbs | 14,000 kg.m |
| Operation Weight | 180,000 lb | 81,800 kg |